Awareness and Readiness of Coronavirus/COVID-19
As the coronavirus disease continues to evolve, Aztec Municipal School District is taking a proactive approach to help ensure the safety of our students, employees and community. The District is working closely with local, state and national health care entities to closely monitor the situation and provide updates as they become available.
FAQ Information 03/09/2021
GENERAL QUESTIONS
Why is this happening now?
New Mexico is ready! We've spent months developing and implementing the protocols to make
our schools safe. Viral transmission and case numbers are down. About 15,000 New Mexico educators — approximately a third of our public school workforce — have already received at least one shot of the vaccine. We're offering all educators a first shot by the end of March. !nd the federal government is doing all it can to help us reopen quickly and safely. It's time to go
back to school!
Do schools that are currently in hybrid mode have to transition to full reentry?
Yes. We are phasing out the hybrid model of instruction and returning to full reentry. However, districts and schools will maintain a remote learning option for families who are not ready to send their children back.
How is this being operationalized? Do districts need to submit a plan for full reentry to the PED? If so, by when?
Districts and charter schools will determine their start date and inform the PED. Before that date, they will submit a document assuring that all COVID-safe protocols are in place and will be enforced, triggering a site visit by a PED official or fire marshal to confirm readiness.
How will janitorial staff keep up with sanitizing demands with students and staff being on campus full-time?
All schools are required to maintain adequate supplies and implement daily cleaning protocols. While we now know that surface transmission is rare and that airborne respiratory droplets drive the spread of COVID-19, students and staff will continue washing hands frequently, and facilities will be thoroughly and regularly cleaned.
How will cafeteria procedures be affected?
Eating and drinking are high-risk activities for spreading the virus. For that reason, students must be physically separated to the extent possible while eating meals. Districts and schools will decide how best to achieve that, considering options like eating in well-ventilated, socially-distanced classroom settings; eating outdoors; spreading students out to eat in hallways, libraries, gyms, and other larger, well-ventilated areas.
What if staff or students get sick?
Ensuring strict adherence to the COVID-safe practices outlined in the PED's Reentry Guidance and COVID-19 Response Toolkit is the best defense in mitigating community spread within schools. In addition, each school has established an isolation room. A student or staff member who begins exhibiting COVID-19–like symptoms will go there without interacting with anyone except the isolation room monitor. The symptomatic individual should remain in the isolation room until a parent or guardian or a school administrator or health care provider with appropriate PPE can transport the individual safely away from the facility.
Will the Rapid Response program remain in effect? Will schools have to close again if COVID cases emerge?
The Rapid Response program will remain in effect in order to identify cases and quickly contain spread. Schools will have to return to remote-only/small group instruction if they reach the threshold of four rapid responses in a 14-day period. A rapid response consists of all of the cases that a school is notified of on a date and any that are identified from testing up to one day after that school notification date.
What safety precautions will be required when students return for in-person learning?
Schools must strictly enforce the COVID-safe practices (CSPs) outlined in the PED Reentry Guidance and COVID-19 Response Toolkit. CSPs include, but are not limited to mask-wearing, handwashing and social distancing to the greatest extent possible. A full list of CSPs for schools is available on page 9 of this document.
Do schools have to offer a full day of instruction every day?
We are returning to full reentry, which means all students may return to their school buildings for in-person learning up to five days a week.
Will schools have adequate PPE to protect everyone?
Every school is required to maintain a PPE supply that includes, among other things, two multi-layer cloth masks per staff member, additional disposable masks, bottled hand sanitizer, and soap and water hand-washing stations. A full list of required PPE is available on page 12 of this document.
Many tribal communities remain closed. Will children living in those communities be required to come to school?
In no case will a student be required to return to in-person learning if doing so would violate the requirements of a sovereign tribe or nation. In addition, public schools operating within tribal comm
FAMILY QUESTIONS
When will my school open?
The governing board of your district or charter school will make that decision after working through many complex considerations like bus routes, space assignments and lunch schedules, to name just a few. Nevertheless, the Public Education Department expects all schools to reach full reentry by April 5.
Will my child be safe?
Schools have in place protocols like mask-wearing, social distancing, and appropriate air filtration upgrades to greatly reduce the likelihood of viral spread. Additionally, while children can and do contract COVID-19, with very few exceptions their cases are mild compared to adult cases.
Will my school provide an appropriate face mask for my child?
Schools may require families to provide masks for their students. Schools also must have on hand a sufficient quantity of masks for students who have left their masks at home.
What options do I have if I'm not ready to send my child back for in-person learning?
Your child may continue learning remotely through the current school year if that is your choice.
What about sports and other activities?
Sports, New Mexico Activities Association–sponsored activities, and other extra-curricular activities may resume with strictly enforced precautions in place including mask-wearing by all and social distancing to the extent practical. Locker rooms can be used as long as they have sufficient air filtration systems and supervision to ensure social distancing. Spectators are allowed within capacity limits linked to a county's color on the Department of Health's COVID-19 heat map.
What about music and choir?
Music education may resume with strictly enforced precautions in place. Students may not share instruments and must use cloth bell covers on wind instruments. Both singers and musicians must be appropriately masked and must maintain enhanced social distancing of 9 feet when playing or singing in groups — which is limited to outdoor venues.
What about transportation?
Bus routes will resume. Bus drivers and school bus assistants will implement social distancing rules to the greatest extent possible, require students to remain 6 feet apart at bus stops, and limit riders to two students per bus seat, to the greatest extent possible. Smaller vehicles pose more risk, but if there is no alternative, SUVs should be used with as few passengers as possible. The windows should be open, and masks must be worn by all.
TEACHER QUESTIONS
How will you know that someone who signs up as an educator for the vaccine really is an educator?
We are grateful that educators and school staff vaccines are a top priority in New Mexico. At the vaccination site, school staff members may be asked to show a current school ID or other proof of employment. Additionally, anyone who forges their employment or other personally identifying information when signing up through the Department of Health portal to receive a vaccine could be fined up to $5,000. The Department of Health takes the vaccine protocol and distribution schedule seriously and is committed to prioritizing New Mexicans according to the phased timeline available here.
Is it safe for teachers and school staff to return to in-person learning if we've only received one of the two required doses of the vaccine?
New Mexico schools are not reopening because of the vaccine-we're reopening because it's safe to do so and it's the right thing to do for our children. Although vaccinating teachers is important, it's not a requirement for safely conducting in-person learning during the pandemic, according to guidance last month from the Centers for Disease Control and Prevention. In-person learning can take place safely if mitigation protocols are enforced, which New Mexico is doing. Meanwhile, New Mexico teachers are getting the vaccine as quickly as possible: We are distributing the vaccine more efficiently than any state in the country, and many of the highest-risk teachers have already received at least one dose of the vaccine. As New Mexico receives more vaccine doses, every educator who wants one will be fully vaccinated.
If I'm a teacher and I don't want to be vaccinated, may I continue working remotely?
You have a right to decline the vaccine, but that will not excuse you from coming back to work if your job requires it. We feel confident about the safety of these vaccines and encourage all New Mexicans, especially educators, to get their shots as quickly as they are available.
Will districts continue exemptions for staff with high-risk medical conditions?
Staff with high-risk medical conditions are exempt from in-person learning until reaching full protection from the vaccine. The two-shot vaccines reach full efficacy two weeks after the second shot; the one-shot Johnson & Johnson vaccine reaches full efficacy two weeks after the single shot.
Will my district or school need to continue with the surveillance testing program if my teachers and staff are vaccinated?
Individuals who provide evidence of full COVID-19 vaccination are not required to participate in surveillance testing. Until all staff members have been vaccinated, surveillance testing will continue for staff who have declined the vaccine and anyone who has not been fully vaccinated. Options include PCR testing through VAULT, Curative, the Department of Health's Public Health Office testing sites, and antigen testing, if available, through a School-Based Health Center.
Will there be hazard pay for educators?
The PED neither requires nor forbids hazard pay for educators. That is a local decision.
Do vaccinated people still have to quarantine if they are a close contact?
Individuals who are fully vaccinated against COVID-19 and who have had close contact with a COVID-19 infectious individual are not required to quarantine if they meet the following criteria:
Are fully vaccinated (i.e., ≥ 2 weeks following receipt of the second dose in a 2-dose series, or ≥ 2 weeks following receipt of one dose of a single-dose vaccine)

Are within 3 months following the receipt of the last dose in the series

Have remained asymptomatic since the current COVID-19 exposure
Do those recovered from COVID-19 infections have to quarantine if they are a close contact?
For the first 90 days after a positive PCR test, individuals who have had COVID-19 infections and who have completed their self-isolation periods, do not need to quarantine if they are a close contact of a COVID-19 infectious person.
Do those recovered from COVID-19 infections have to self-isolate and get tested if they develop symptoms?
If a person is positive for COVID-19, completes their self-isolation, recovers, and then develops new COVID-like symptoms within 90 days of their first infection, they should stay home until fever-free for at least 24 hours without fever-reducing medication and with improvement in symptoms. They may consider consulting their healthcare provider for additional guidance. If a person who was positive for COVID-19 more than 90 days ago develops new COVID-like symptoms, they should follow the same guidance as for someone who was never previously a case.
Will childcare be available for staff whose own children are remaining in remote?
Check with your district/school to see what accommodations may be available. You can also visit this childcare search at newmexicokids.org or this informational page about childcare assistance through ECECD.
How will schools manage simultaneously teaching children in class and children in remote?
Each district or charter school will determine how best to deploy available staff and resources to accomplish this. Many are doing it already in the hybrid mode.
Additional expanded in-person learning information and guidance is available at
Dear Parents and Guardians:
I hope this communication finds you safe and healthy. We continue to post updates, and other resources on our website about many different things that we hope you will find helpful during this time. Our staff, as you know has been busy delivering learning, and more is on its way. Our learning plan is officially rolling out this week. The elementary schools, Lydia Rippey, McCoy and Park have already been or will be providing on-line lessons as well as delivering, with the food, packets of lessons or having you pick-up those packets at schools this week. Koogler Middle School will do the same later this week and will communicate to parents their plan as they too have been sending out and delivering lessons to many students electronically. VNHS and AHS have both been delivering learning, but will complete their initial rollout next week, as they are finalizing some plans of getting technology out to students and developing some packets of learning for others. All of that will be done and delivered by early next week.
I cannot thank the teachers, educational assistants, principals, technology department, transportation workers, and many other central office administrators for their long hours and hard work ensuring that we get this work out. Believe me, it takes all of us, but it is worth it. This work is important, not only to continue the learning, but because it counts. Collaboration between the family and the school is more important than ever before. Know that we are here to help you. Please do not stress. We are in this together.
No plan is perfect, but know that we are working to ensure that we address the social emotional and learning needs of all students and families as much as we can during this trying time. If you have any concerns please contact your son/daughter's school, and leave a message.
We will be submitting the district Continuous Learning Plan to the Public Education Department later this week. Many hours of thought have gone into this plan. We are working to balance the needs of your family, the learning of your student(s), the needs of our staff, as they have families as well, and ensuring that we keep in mind what is happening in and around us at this time. There are certain requirements that we must meet, so our plan must address those, but the most important thing for us is to keep learning moving for students as much as possible. You are important partners in this. Teachers have set up office hours for students and parents to receive help five days a week. We have evening homework hot-lines at least four per week for parents who need to make contact in the evening. Your son/daughter's school will send that information out to you.
Communication is a key so we will be checking in a lot, not because we want to bother you, but because we care.
As we go forward in our situation, it is important that we continue to pay attention and abide by the "Stay Home" directive from the Governor and the New Mexico Department of Health. We will get through this, but it will take all of us doing our part and doing the right things.
Attached is a link with a short video of some reminders, from some familiar faces, within the district of what we need to do in Aztec to get through this time. Remember though we are apart, now more than ever we must come together as one and stay united. WE ARE AZTEC STRONG! WE ARE AZTEC!!
Thank you,
Superintendent Carpenter
Greetings:
On March 23, Governor Lujan-Grisham announced a stay home order, which is in effect as of 8:00 a.m. March 24, 2020 and will be in effect until April 10, 2020.
"Does this order mean you cannot walk your dog? No. Does it mean you can't go for a jog? No. But you should not do those things in a group – and you should be home as soon as possible," the governor said. "This social isolation strategy will only work if we all undertake it to the greatest extent we can. That boils down to one thing: Stay home." Is what the Governor stated.
Businesses deemed essential that may remain open are:
​Health care operations including hospitals, walk-in-care health facilities, emergency veterinary and livestock services, pharmacies, medical wholesale and distribution, home health care workers or aides for the elderly, emergency dental facilities, nursing homes, residential health care facilities, research facilities, congregate care facilities, intermediate care facilities for those with intellectual or developmental disabilities, supportive living homes, home health care providers, and medical supplies and equipment manufacturers and providers;

​Homeless shelters, food banks, and other services providing care to indigent or needy populations;

​Childcare facilities necessary to provide services to those workers employed by essential businesses and essential non-profit entities;

​​Grocery stores, all food and beverage stores, supermarkets, food banks, farmers' markets and vendors who sell food, convenience stores, and other businesses that generate the majority of their revenue from the sale of canned food, dry goods, fresh fruits and vegetables, pet food, feed, and other animal supply stores, fresh meats, fish, and poultry, and any other household consumer products;

​Farms, ranches, and other food cultivation, processing, or packaging operations;

​All facilities used by law enforcement personnel, first responders, firefighters, emergency management personnel, dispatch operators, and court personnel.

​Infrastructure operations including, but not limited to, public works construction; commercial and residential facility construction and maintenance; airport operations; public transportation; airlines; taxis; private transportation providers; water, sewer, trash and recycling collection, processing and disposal; gas; electrical; oil drilling; oil refining; natural resources extraction or mining operations; nuclear material research and enrichment; those attendant to the repair and construction of roads and highways; solid waste collection and removal; processing and disposal; data and internet providers; data centers; and telecommunications systems;

​Manufacturing operations involved in food processing, manufacturing agents, chemicals, fertilizer, pharmaceuticals, sanitary products, household paper products, telecommunications, microelectronics/semi-conductor, primary metals manufacturers, machinery manufacturers, electrical equipment, appliance, and component manufacturers, and transportation equipment manufacturers;

​Services necessary to maintain the safety and sanitation of residences or essential businesses including security services, custodial services, plumbers, electricians, and other skilled trades;

​Media services including television, radio, and newspaper operations;

​Gas stations, automobile repair facilities, and retailers who generate the majority of their revenue from the sale of automobile repair products;

​Hardware stores;

​Laundromats and dry cleaner services;

​Utilities, including their contractors and suppliers, engaged in power generation, fuel supply and transmission, water and wastewater supply;

Funeral homes, crematoriums and cemeteries;

Banks, credit unions, insurance providers, payroll services, brokerage services, and investment management firms;

Real estate services including brokers, title companies, and related services.

Businesses providing mailing and shipping services, including post office boxes;

Laboratories and defense and national security-related operations supporting the United States government or a contractor to the United States government;

Restaurants, but only for delivery or carry out and local breweries or distilleries but only for carry out;

Professional services, such as legal or accounting services, but only where necessary to assist in compliance with legally mandated activities; and

Logistics and businesses that store, ship or deliver groceries, food, goods or services directly to residences or retailers.
How does this Affect Our Organization?
In our organization those considered essential at this time are those individuals ensuring that our students get fed, which we will continue as scheduled, those that are helping to keep sites clean and some that will be needed for isolated issues, such as an emergency, or for things like payroll etc. In most cases even these individuals will be on our sites only for very limited times.
This means that until further notice, up until April 10, 2020, all personnel are not to be on campuses or any other district property. With this announcement there are questions on what does this mean for schools and the Governor, though not making it official, did say that more than likely schools would be closed longer than April 6, 2020. We have a meeting with the Secretary of Education this Thursday and will have more updates later this week and will keep you updated.
Moving Forward:
What this does not mean is that we will stop looking at things we can do as far as pursuing instructional delivery to our students. We will be meeting virtually with principals, instructional coaches, cabinet members and other Central Office personnel to discuss this and other issues. Continuing instruction is something that the Governor has continued to message and though not being able to meet face to face may make this a little more difficult, it cannot and will not make it impossible. We know our students are counting on us and we will do what we need to as we get better direction and know what we need to do.
Please know that we are doing all we can to deal with this, but that safety, and health are the primary concerns, and though many decisions are being passed down to us, we will also keep these in the forefront when making other decisions as we move forward.
As we shared with our staff, "Fear is a Liar" if we do what we are supposed to. So don't be afraid, don't panic, just take care of yourself, be informed and do what you are supposed to. We ask that you do all you can to take care of yourself by continuing to wash hands, don't touch your face, stay away from sick people, eat healthy meals, maintain social distancing and follow the directive of the Governor. It is like a puzzle, we cannot solve this complicated problem, unless all the pieces come together, and each of us are those pieces. It is up to all of us to do our individual part so that together the overall goal can be met.
Remember to constantly check our website for more updates and information.
FOR MORE INFORMATION: New Mexicans who have non-health-related questions or concerns can also call 833-551-0518 or visit newmexico.gov, which is being updated as a one-stop source for information.
If you have specific questions please do not hesitate to reply back to our posts as we do try to monitor them on a regular basis. But know we are attending a lot of meetings and getting updates every day so a lot is changing. Stay positive, we cannot control what we are facing, but we have full control of how we deal with it.
We have added to our website different resources for mental health and activities that you and your family can engage in while you stay at home.
"Every adversity, every failure and every heartache carries with it the seed of an equivalent or a greater benefit."– Napoleon Hill
WE ARE AZTEC!!!
Superintendent Carpenter
Dear Parents:
In an effort to meet the needs of all students and families, the food delivery and drop off points have been modified. We are not able to deliver door to door drop off, but want to make every effort to ensure that all our students are fed during this time. Below you will find a schedule and drop off points with specific times the District will be delivering food. It is imperative that students or students with their parent meet the bus. These buses will have school personnel delivering the food.
We thank you for your continued patience and flexibility as we adjust schedules, and know that we are trying to do the best we can with this situation. Our goal is to meet the needs of families, as we are one big Aztec Family. I want to thank Mr. Schryver, Director of Food Service and Mr. Laws, our Director of Transportation for their efforts and flexibility with this new schedule and for their countless hours of work to make this happen. Along with them, their staff has been incredible. In the midst of all the negativity out there, we have the ability to focus on the good that is within. These are the people that are serving our students. We would also like to thank those that are in health care and public service. These people are going to work every day for us so we can stay at home and be safe.
Dear Families:
Earlier today we sent an email about meals and the changes in our delivery schedules. Please make sure you see our Facebook page, and our website for those changes.
Instructional Delivery: As we continue to monitor things please know that we do not have any major updates for you at this time. We will continue to keep you posted through social media, email and our website. We have received questions regarding instructional delivery. When the Governor announced that all schools would be closing for the next three weeks, a day before Spring Break, we were not informed to provide instruction. As a district, we know the importance of continued learning. Some sites have already thought about this, even with short notice and are working with students. We have met with staff and will continue to plan for this and will keep you updated. The most important thing for you to know is that we have been working on this and will be planning more in this area in the days to come.

Survey – We will be calling next week to survey internet access to better understand what is available to our students. We are putting together the plan as I email you, but know that you will be getting a call and will be asked a series of questions which will help us plan on how we can deliver instruction for students. Please participate in this short 2 minute survey as this is very important information for us to collect. We will be asking questions like:
Does your student have access to the internet at home?

What type of device do they use to access the internet?

If your student does not have internet access do they have a device that has access to a computer with a USB drive at home?

Student does not have any technology at home.
These questions will help us identify the areas of need for our district.There is not a perfect situation for times like this, but there is a great opportunity for us to work together for the greater good of our community and students, even if it is from a distance. The way we do that is by participating in things like this survey, and making sure we get information back. The other way is doing the things we have been communicating like washing hands, and ensuring we are following all the recommendations from the Governor's Office, the CDC and Department of Health. One person at a time doing the right things, will make the biggest difference in us getting through this issue, and it is up to each one of us to do our part. It is in times like this more than ever before that we need to be a community.
In the most trying times we are be tested and it is in times like this that I am glad I am a part of the Aztec Municipal School District.
We Are Aztec!!
Please see below for updated contact information for the NMDOH and the CDC.
New Mexico Department of Health
Coronavirus Hotlines: 1-855-600-3453 (Call for health information), 1-833-551-0518 (Help with childcare, food, supplies or loss of income etc.)
Centers for Disease Control
Breakfast and Lunch meals will be served together at our pickup sites. We will serve from 11:00 AM – 1:00 PM. You may pick up meals for lunch and the next day's breakfast at the same time. The program is open for all children 18-and under without discrimination. We are in the process of setting up remote sites. Meals will be served beginning Wednesday, March 18 at AHS, Rippey, Park Ave., and McCoy in the student or bus drop off lanes. We are also serving at Flora Vista Fire Station #1 at #2 CR3275, Hart Valley Fire Station #100 CR3100 and Cedar Hill Fire Station #4 CR2343. Look for the Aztec Schools buses for delivery spots. Please watch Facebook or pay close attention to robo-calls as there may be changes in sites and times as we get more information and approvals for sites. You do NOT have to go to your child's school for meals. Meals will be grab-n-go packages. We are happy to serve the community and look forward to serving you. Please be patient as we are changing things regularly in our approach. For Monday and Tuesday, we are only at the AHS site while we get product lined up.
We want to thank everyone for your understanding and patience as we work through this current situation.
There are several issues we need to work through, some we will continue to work on and some options we are trying to work on as we speak. Please be patient with us around this. We are still working to understand all aspects and how all of this impacts us all.
Why the Governor Made the Decision She Did:
She wanted to do everything she could to keep families safe. She made this decision to minimize the spread. The attached graph shows the benefit of social isolation and one of the main reasons why taking this action will help at this time. The idea of this is to flatten the curve and allow our health system in the community to continue to operate and not become overwhelmed.
Even with schools closed this idea of social distancing works only if we, over the next three weeks, do exactly that. Stay away from large gatherings and minimize contact with others. We need to make sure we continue with the good practices of washing hands and covering coughs. Do not panic, instead use caution. We're all in this together, and taking these steps will help our community.
If you have any health-related questions the state hotline number is 1-855-600-3453. Once you call you will be routed to different health experts. If you have other questions about schools, supplies, child care, etc. call 1-833-551-0518.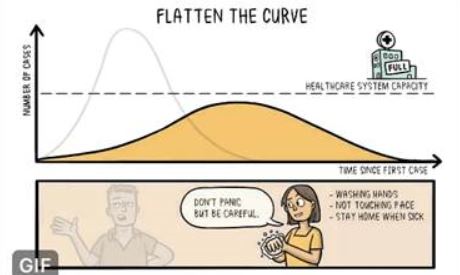 Building Closures - AMSD buildings will be closed from 3/14/2020-3/16/2020. Starting Tuesday 3/17/2020 AMSD Central Offices will be opened from
7:30 AM-1:00 PM.
Instructional Time- As of today, PED has indicated that we will not have to make up the instructional time we will lose over the course of the two weeks. We will be able to end the school year at the same time. We just received this information this morning.
Meal Service- We will provide meal service for our students. It will resemble the summer lunch model. The plan for meal service is to begin serving meals on Monday, March 16. All meals will be served Free of Charge. We will serve both breakfast and lunch.
Our service will be a grab n go meal cold meals.
We anticipate serving at AHS, Park, Rippey and McCoy schools and are hoping to have remote sites set up at fire stations in outlying areas TBD.
AMSD will be serving Breakfast 7:30-8:30 and Lunch 11:00-12:30 this Monday and Tuesday at the AHS parent pickup line on Blanco St. There will be more updates early next week.
Any changes to this plan will be communicated
Graduation- We will maintain our graduation dates for both Aztec High School and Vista Nueva.
Athletics & Events- All practices and events are canceled during the closure.
NM Public Education Department has informed us that the governor has ordered that all public schools in NM be closed effective 3/16/2020 until 4/6/2020. For the effect, this will on all athletic and activity events we are working with the New Mexico Activity Association. This decision was made as a result of concerns over the coronavirus and our state's efforts to keep the safety of our students and staff at the forefront. We support this decision. For continued updates check out www.aztecschools.com
We are working out the details of how things will work during this time of closure, but know we will have Central Office open. Also know that we will be extending the school year, to account for the days we are losing as a result of this change, but we will have those details for you as we work through this.
We should be fine with our graduation dates so that should put people at ease with that, but we also know that we will continue to monitor things as they move forward and we cannot predict those changes either.
We will get through this as we are AZTEC, but the way we do that is by working together, taking care of each other and most importantly taking care of ourselves.
Thank you and know we will keep you posted as we make decisions and continue with our plan to move forward. When times like this happen we have to be resilient and in a book given to me by Ms. Hunter a great quote I rely on reads "the most resilient people use the mess as the reason to become greater."
WE ARE AZTEC
Today, Govern Lujan-Grisham announced 3 cases of COVID-19 in New Mexico. All of the cases are travel-related and none of the reported cases are in San Juan County. Presently there have been no positive cases of COVID-19 in San Juan County.
The Aztec Municipal School District will continue to monitor the situation. We will continue to work with the New Mexico Department of Health (NMDOH) and follow the guidance issued from them as well as the Center for Disease Control and Prevention (CDC.)
As an origination, we have taken a number of steps to help protect our students and staff including:
Reviewing hand hygiene with our students.

Increasing the amount that students wash their hands.

Increasing the cleaning that is done in our buildings, with particular attention to "high touch" locations.

Additional cleaning on our buses.

We have reminded students and staff to stay home when ill.
We are continuing our work with local agencies on possible next steps and please know that the safety of all staff and students is of the utmost importance. We will continue to take preventative steps as recommended by NMDOH and the CDC. As additional guidance is provided we will change practice to align with the newest information we receive and will continue to keep you informed.
It is important to remember that, as with other illnesses, the best way to protect yourself and your students is to wash your hands regularly, to cough or sneeze into your sleeve or a tissue, and when possible avoid contact with individuals who are ill.
Finally, the best way to stay up to date on information is to visit the NMDOH website and the CDC website.
Letter from Superintendent Carpenter
For the Most Recent Information, Visit:
The San Juan Regional Medical Center has created a Coronavirus Information Hotline for the community to receive the latest up to date information regarding the virus.
(505) 516-0938 or Toll Free at 1(888) 949-5387
There are no confirmed coronavirus cases in New Mexico.
The virus is thought to spread mainly from person-to-person.

Between people who are in close contact with one another (within about 6 feet).

Through respiratory droplets produced when an infected person coughs or sneezes.

These droplets can land in the mouths or noses of people who are nearby or possibly be inhaled into the lungs.

Spread from contact with infected surfaces or objects

It may be possible that a person can get COVID-19 by touching a surface or object that has the virus on it and then touching their own mouth, nose, or possibly their eyes, but this is not thought to be the main way the virus spreads.

People are thought to be most contagious when they are most symptomatic (the sickest).

It may be possible to spread the virus before people show symptoms; there have been reports of this occurring with this new coronavirus, but this is not thought to be the main way the virus spreads.

Symptoms may appear 2-14 days after exposure:

Fever

Cough

Shortness of Breath
Take general precautions like frequent hand washing to prevent the spread of any virus, including seasonal flu, which is still active across New Mexico and the U.S.
Avoid close contact with people who are sick.

Avoid touching your eyes, nose, and mouth.

Stay home when you are sick.

Cover your cough or sneeze with a tissue, then throw the tissue in the trash.

Clean and disinfect frequently touched objects and surfaces using a regular household cleaning spray or wipe.

Follow CDC's recommendations for using a facemask:

CDC does not recommend that people who are well wear a facemask to protect themselves from respiratory diseases, including COVID-19.

Facemasks should be used by people who show symptoms of COVID-19 to help prevent the spread of the disease to others. The use of facemasks is also crucial for health workers and people who are taking care of someone in close settings (at home or in a health care facility).

Wash your hands often with soap and water for at least 20 seconds, especially after going to the bathroom; before eating; and after blowing your nose, coughing, or sneezing.

If soap and water are not readily available, use an alcohol-based hand sanitizer with at least 60% alcohol. Always wash hands with soap and water if hands are visibly dirty.
Frequently Asked Questions
Should I wear a mask?
The Centers for Disease Control and Prevention (CDC) does not recommend that people wear masks to protect themselves from respiratory viruses, including COVID-19. You should only wear a mask if a healthcare professional recommends it. A facemask should be used by people who have been exposed to COVID-19, and who have symptoms. This is to protect other people from the risk of getting infected. Masks are also crucial for healthcare workers and other people who are taking care of someone who has COVID-19 at home or in a healthcare facility.
Where did the virus originate?
The virus most likely originated from an animal at the Wuhan seafood and animal market. Other coronaviruses have been found in a variety of animals, including bats, camels, civet cats, swine, and ferrets, among others. The animal reservoir for this new virus has not been determined yet.
How long does it take to get sick after being exposed?
The maximum incubation period for most coronaviruses, or the time from exposure to getting sick, is up to 14 days.
Is there a vaccine?
Not yet, although development has started. When a new disease is discovered, it can take years for a vaccine to be developed and properly studied to make sure it is safe and effective.
Is there a treatment?
There is no specific treatment for coronaviruses. Most people will recover on their own. However, in the early stages of this outbreak, it is best to seek medical care right away.