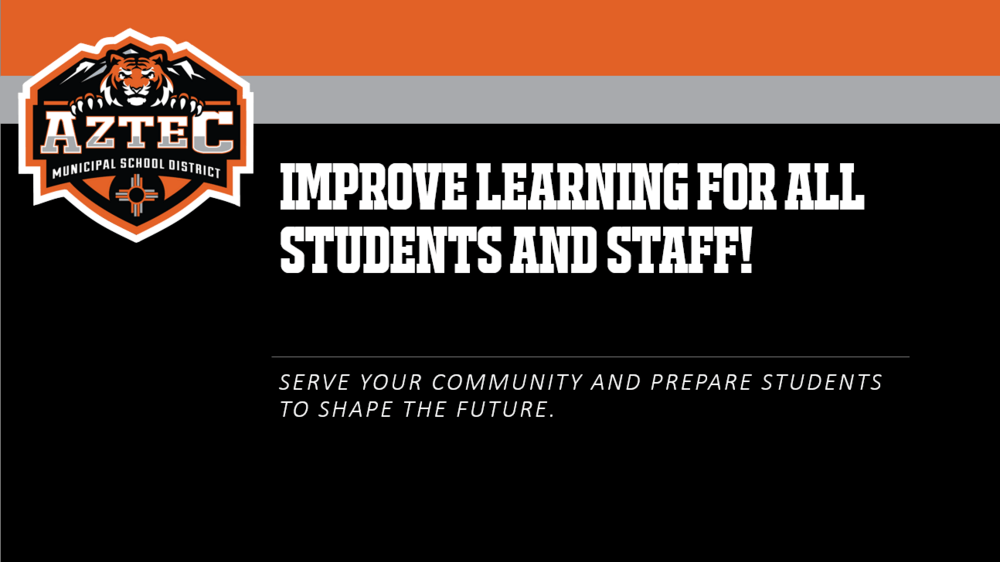 WE WANT TO WELCOME YOU!
The Aztec Municipal School District wants all individuals—student and staff—to be Inspired, Safe, and Fulfilled. We are a diverse mix of talented individuals who are passionate about the work we do: Educating! We recognize that staff, regardless of their position, are here to serve our community and provide a safe and caring environment for all students. We value Pride in our work, clear and kind Communication, respectful Relationships, Dedication to teams, supporting our Community, Empowering each other and our students, taking risks by being Innovators, and Serving each other, our students, and our community. In fact, these are the core values that guide the work we do each day. Through these values, we build solid and long-term teams who work closely, have growth opportunities, and seek new ways to deliver positive outcomes to our students and community.
As you can see, the most essential part of our organization is the people—students, staff, and the community as a whole. Because we believe so strongly in our mission, values, and duty to our community, we seek hardworking, diverse, and passionate individuals to help us prepare students to be successful.
If this sounds like you, please take the time to learn more about us and consider joining our team!
Start a Career With us:
Each day is a new opportunity to find purpose in your work. By joining our team, you will help improve our community. We have a variety of needs, from caring for our beautiful campuses, providing quality education, and ensuring that staff and students have access to the necessary technology. Whether you are already a part of our community or are just learning about us we invite you to imagine the meaningful difference you can make while working with the Aztec Municipal School District.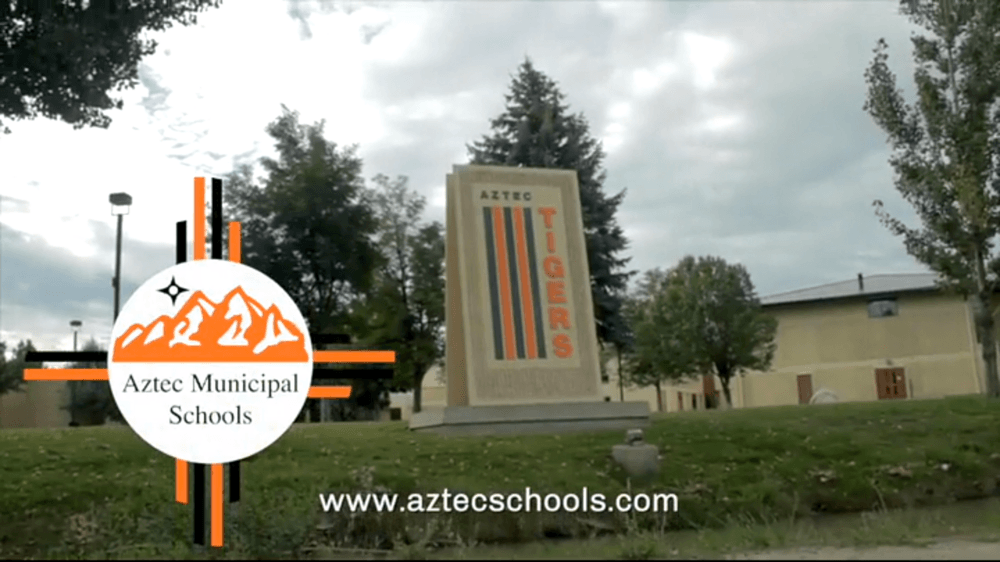 Why Aztec:
Every day over 2,500 students cross the threshold of their school in Aztec and begin their school day. They come to us with different skills, backgrounds, and experiences but are full of energy and dreams. They are our most important stakeholders, and we take our mission to ensure all students develop a solid educational foundation seriously. Due to our location, we have a diverse student population that helps inspire creativity and learning. Our schools are a focal point and source of pride for the local community.
Aztec is located in the northwest corner of New Mexico in the beautiful San Juan River Basin, a rural community just south of the Colorado border. The Aztec Municipal School District (AMSD) serves over 2,500 students in preschool through grade twelve. The district is located in the "four corners area" where New Mexico, Colorado, Utah, and Arizona meet.
Aztec is 15 miles East of Farmington, 177 miles North of Albuquerque, and 35 miles south of Durango, Colorado. If you enjoy the outdoors, there is never a shortage of things to do locally, and Aztec is within a few hours of a variety of excellent weekend recreation spots.
The City of Aztec is the county seat of San Juan County, and our economic base is tourism, coal, oil, natural gas production, and agriculture. The district employs over 250 certified staff members and a support staff of more than 150 to provide transportation and educational services to our students. We own our buses, provide our own custodial and maintenance services, and outsource food service management to Chartwells. Our students do well on standardized tests, and they are exceptionally well behaved.
How we Hire:
Employees—in all areas—are one of the Aztec Municipal School District's most valued resources.
Hiring a diverse team of passionate people who strive to be the best and bring their talents to work each day is key to sustaining our excellent culture and enabling the Aztec Municipal School District to help our students be prepared to compete globally.
Individuals with a disability who are unable or limited in the ability to use or access the careers website can request an accommodation by contacting the AMSD Human resources department.
The Aztec Municipal School District is a steadfast equal opportunity employer. For more information on our Equal Opportunity Employment Policy and our Title IX Policy by clicking here.
Connect:
The Aztec Municipal School district encourages employee referrals as an effective way for recruiting top talent. If a friend has referred you, please identify this on your application.
Step 1 Apply:
Please take time and review the job postings carefully—candidates have greater success when their experience and training strongly match our job requirements.
After applying, you can always track your application and where you are in the process by logging into our careers page.
Tip: Think about how you want to present yourself—would adding a cover letter help you tell your story? What about sharing your resume?
Step 2 Assessment:
All applications are reviewed before being sent to school and department leaders. During this review, qualifications are looked at to determine if there is a match with the job posting requirements.
Phone screens are typically a part of the review process as well.
Tip: Do not stress about the phone screening, be available, prepared, and most importantly, be yourself!
Step 3 Interview:
High-quality candidates will be invited to interview. Interviews in the Aztec Municipal School District are typically completed by a team (Relationships and Community are core values).
These teams are generally small groups that focus on listening to your strengths and looking at how they meet the position's needs.
We recognize that we will not learn everything about you in an interview, but it is our goal to start getting to know you—and we welcome you to ask us questions during the interview process to get to know us.
Tip: Have questions ready to ask—see if we meet your needs too—interviews are an excellent opportunity to learn what you need to about us. We want to help you determine if this is the right opportunity for you.
Step 4 References:
If selected as a finalist, we will complete reference checks. The Aztec Municipal School District has an online survey sent to references at the time of application. Finalists will have these references called for an in-depth check before an offer of employment.
Tip: Make sure your most recent supervisor is listed as a reference and take the time to inform references in advance that they will be contacted. This will help us both by speeding up the process!
Step 5 Offer:
Offers are made verbally. All employment offers are contingent upon the successful outcome of reference checks, background checks, and pre-employment processes as required for the position. Once an offer is accepted, the next step of the hiring process will begin!
Step 6 Screening:
Safety for our students and staff is critical. Before the start of employment, all new hires are required to complete a background check and additional verifications as required for the position.
Tip: Carefully read all emails and take action quickly to avoid any delay in starting employment.
Step 7 Onboarding:
The Aztec Municipal School District has an ever-expanding onboarding and professional development system. New hires will receive an email with the information to access and begin a onboarding process that is relevant to your position. Onboarding includes completion of the necessary documentation, orientation, and training in critical areas. Online support is not all that is provided. On your first day, you will meet with your supervisor to welcome you to the team and connect you with a support network (Community and Service core values!)
From there—you are set to continue your journey with us!
New Hires—What to Expect?
Congratulations and welcome to the Aztec Municipal School District!
As a new employee, you have the opportunity to make an impact and help support positive outcomes across our organization. The Human Resources Office wants all employees to have an exceptional employment experience.
Our genuine hope is that you will enjoy a rewarding career, feel support, informed, and prepared to bring your talent and passion to your new position. There is a lot to learn and do as an employee.
This will be completed via the login that was used to apply for your position. You will be taken step by step through the onboarding process, but you are not alone. If at any time you need assistance, you can always reach out to us. (our contact information is below!)
Getting Started:
The Human Resources Office is responsible for onboarding and orientation of newly hired staff. We provide access to all of the necessary documents and training through our records program, accessible through the login you used to apply for your position.
You will also receive emails to help remind you of tasks that need to be completed.
All new staff members must complete new hire orientation and the welcome packet within their first three days of employment.
Contact Us:
Jonathan Acrey- Executive Director of Human Resources
Email: adacrejo@aztecschools.com
Phone: (505) 334-9474
Debbie Smith- Administrative Assistant
Email: adsmitde@aztecschools.com
Phone: (505) 334-9474 Ext-1013