Native American Page
Kimberly Zah is the Indian Education Coordinator
Located at Central Office, 1118 W. Aztec Blvd. in the Instruction and Federal Programs Offices
Office Phone #505-334-9474 ext. 1077 Work Cell Phone #505-333-5054
Congratulations to Skylene Slayton
Miss Native American Aztec High School 2021-2022
Ms. Slayton is in the 9th grade, an enrolled member of the Navajo Nation and is of Hispanic heritage. Her clans are Ye'ii' Dine' e' Tachiinii', Hispanic baah' shish chiin, To'aheedlii'nii bi cheii' ahdoo Hispanic bii' nalii'. Her traditional performance included the Navajo Ribbon dance, a healing dance that is performed during the winter season sung by her grandfather. Her future educational plan is to attend Fort Lewis College, majoring in Art. If you see her, please congratulate her. Check out our Facebook page for the live video of our pageant and enjoy.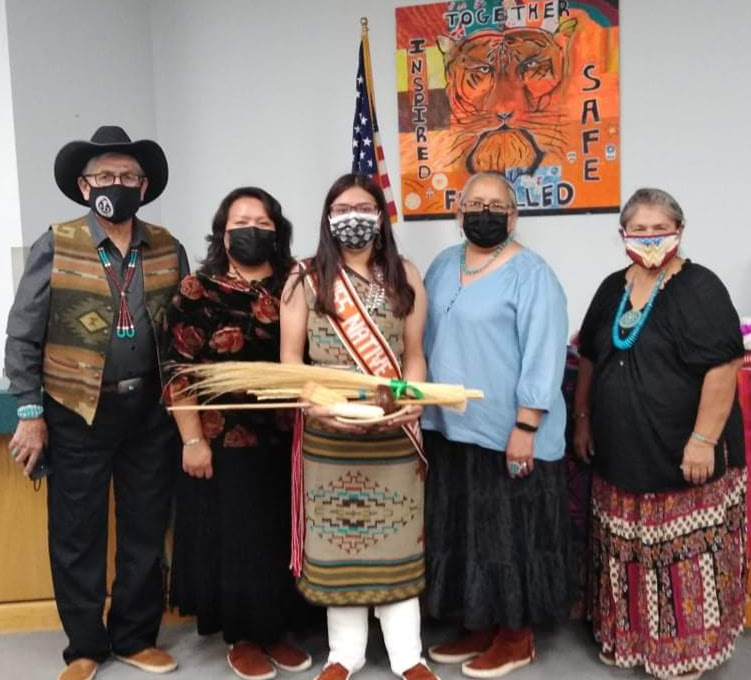 2nd Semester School Supply Distribution Begins, Monday, January 10, 2022 at 8:30 a.m. until Friday, January 28, 2022

HS students may need list from each class to receive the needed supplies. Otherwise, general supplies will be given.

Be a mentor at Aztec HS. Open to 12th and 11th grade students.
Serve on the parent committee. Two open positions. Send a letter of interest to the coordinator's email Kimberly Zah.

2nd Semester School Supply Distribution Begins, Monday, January 10, 2022 at 8:30 a.m. until Friday, January 28, 2022.

Need support for child care cost, click the link:
Indian Education Committees
Johnson O'Malley

Songtree Pioche, Chair

Patricia Begay, Vice-Chair

Vacant Secretary

Vacant Member

Title VI Indian Education Formula

Songtree Pioche, Chair

Patricia Begay, Vice-Chair

Vacant Secretary

Teacher Mrs. Gustamantes

Vacant Student