Marie Jensen - Sponsor
(505) 334-9414 ext.1342
ahjensma@aztec.k12.nm.us
Movies in Minium Park - Minium Park behind Blake's near Aztec Visitor Center - All movies start at dusk. Concession stand to raise money for charity.
May 27 - The Incredibles
June 3 - Inside Out
June 17 - Home
July 1 - Good Dinosaur
July 15 - Lion King
July 29 - Zootopia
Aug. 12 - Shrek
Current and Up Coming Activities
Evolvement Dodgeball Tournament - May 9-15 during lunch
6 person teams, Double Elemination
Fiesta Days - Preparing Old Man Gloom to be burned!! June 16
Burning of Old Man Gloom June 18
Movies in Minium Park - See schedule above under Summer Events
Key Clubbers attend District Convention in Denver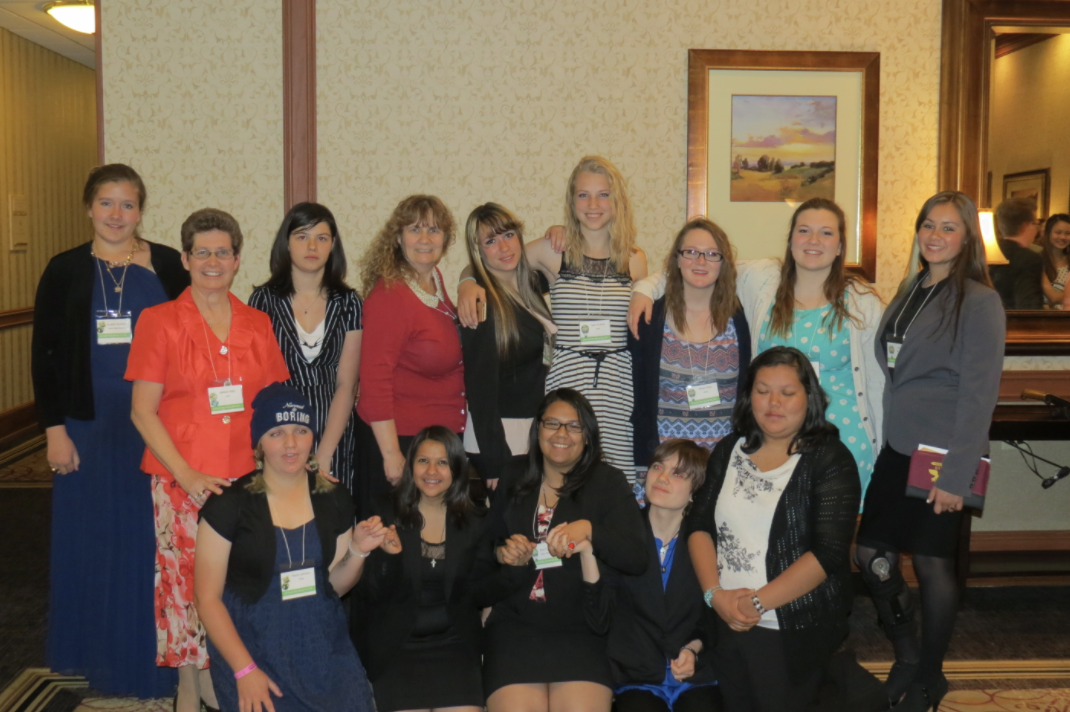 Back Row L to R - Abby Hawkins, Advisor Debbie Klein, Kelsey Wilson, Advisor Marie Jensen, Jazman Gammon, Tyler Shehan, Tiffany King, Kelsie Shelby, Makaylee Boergadine
Front Row L to R - Krysta Johnson, Donna Martinez, Ana Chacon, Tatum Regen, Nathania Canuto
Key Club Officers and Meetings
President - Tiffany King
Vice President - Makaylee Boergadine
Secretary/Treasurer - Anna Chacon
Meetings - Thursdays at lunch in room 802
Lunch is served
2015 a Record Breaking Season for Movies in the Park
Record numbers of viewers came out on Friday nights throughout the summer to enjoy a variety of movies shown at Minium Park. Crowds of over 200 attended three movies with the largest number at 250. Nearly $800 was raised for charities at the popular concession stand. Plans are being made now for another record breaking season. Join us for an evening of family fun!
Key Club Supports Theatre Groups
Key Clubbers enjoy two socials supporting theater groups at Aztec and Bloomfield High Schools. On April 22, seven members enjoyed dinner at the new "Hot Dawg" shop, listened to local folk music group, and checked out an art show before attending the Aztec High School Playmakers production of "Noises Off". The following Saturday, five members met up at Wendy's for dinner and then traveled to Bloomfield High School to see the young artists production of the "Wizard of Oz". Both evenings were fun and developed camaraderie among members.